REGISTER HERE – JULY & AUGUST WEEKS ARE FULL.
Click here to purchase a Camp Mudd t-shirt.
---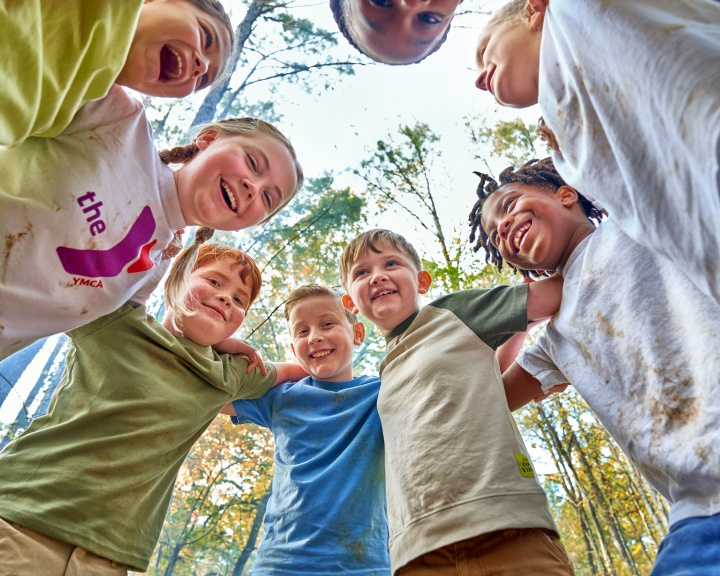 ABOUT CAMP MUDD
Camp Mudd is an outdoor camp experience for the families and children of the Columbia area during the summer months. Our program is designed to make summer a fun time of learning, exploring, and making new friends. Each weekly session is designed around a theme and includes an exciting field trip or activity. Nature activities as well as sports, games, crafts, music, drama and swimming help round out your child's camping experience. Camp Mudd is located approximately 5 miles north of Columbia at the Camp Fire's campground. The camp has 52 acres of trees, hills, rocks, creeks, and fields. There is a large lodge on the property that is well protected in case of severe weather conditions. Campers learn to respect and enjoy nature through a variety of activities designed to give them firsthand experiences in the great outdoors. The Camp Mudd staff are carefully selected and chosen for their teaching skills, maturity, camp experience, and love of children. Prior to camp, the camp counselors participate in an intensive training program to refine their group leadership skills, first aid, CPR training, and nature skills.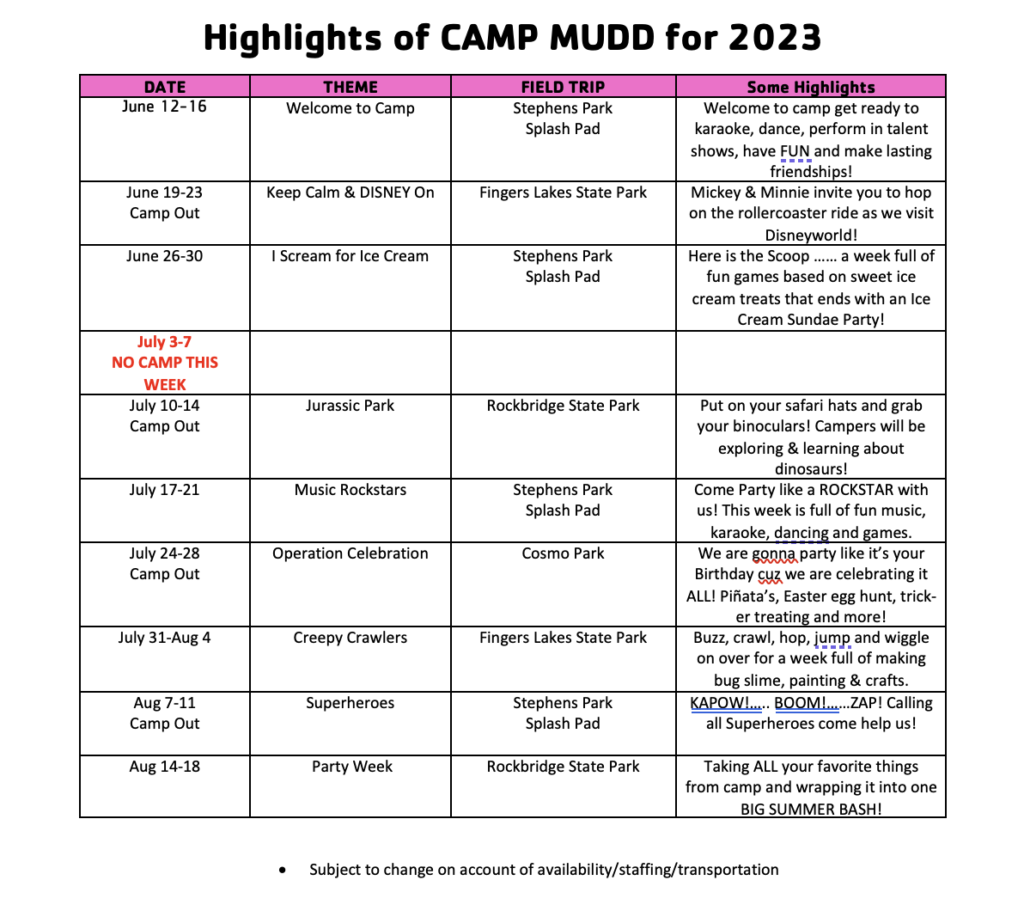 ENROLLMENT
Camp Mudd has an enrollment cap of 60 children per week. Enrollment is open to children ages 5-12. Campers are divided into small groups of similar ages. Groups can change throughout the summer depending on enrollment each week. If your child would like to be in the same group as another camper, please indicate that during registration. We will do our best to honor those requests.
CAMP FEES & DEPOSITS
FEES: $30 registration fee (one-time, non-refundable) / $175 per week
Camp fees are kept as low as possible in order to be affordable for all families around Boone County. A limited number of scholarships are available based on family need. The application deadline is two weeks prior to registration. Please submit application to fgriffin@jcymca.org or mail to 405 South Main Street, Ashland, MO 65010.
Click here for scholarship application.
2023 SESSION DATES
June 12 – 16 ………………………………………………… No Camp-out
June 19 – 23 ……………………………………………. Camp-out
June 26 – 30 ……………………………………………. No Camp-out
July 3 – 7 ………………………………………………… CLOSED
July 10 – 14 ………………………………………………….. Camp-out
July 17 – 21 ………………………………………….. No Camp-out
July 24 – 28 ………………………………………………….. Camp-out
July 31 – August 4 ……………………………………………. No Camp-out
August 7 – 11 ……………………………………………….. Camp-out
August 14 – 18 ………………………………………. No Camp-out
COMMUNICATION
*** REQUIRED – We will use the Remind app to send out messages and reminders. See chart below to sign up for correct group.
| | | |
| --- | --- | --- |
| TEXT | TO | FOR |
| @campmudd | 81010 | Camp Mudd |
If at any time you have questions or concerns, please do not hesitate to contact Nabrina Keltner, Child Care Director at 573-657-9622 ext. 808, nabrinas@jcymca.org or the YMCA front desk at 573-657-9622.
Need to add or drop a week of camp? Add/drop MUST be done by the parent by contacting Nabrina Keltner: nabrinas@jcymca.org or 573-657-9622 ext. 808. Requests to add or drop weeks must be done a minimum of one week prior to date of service. Refunds are unavailable if not cancelled within 7 days. Requests to add weeks is dependent on availability.
Click to view the 2023 Parent Handbook
ITEMS TO NOTE
Campers will be required to bring a sack lunch. The Y will provide one snack during the afternoon. Be sure to send your child with an extra snack and water bottle.
Monday afternoons will be field trips.
Wednesday afternoons will be swimming/water play. Please send child with swimsuit and a towel.
Sunscreen must be provided by parent.
Purchase Summer Camp T-Shirts here. *Not required to purchase shirt
TRANSPORTATION & TIMES
Transportation will be provided by the YMCA bus to and from Camp Mudd. See chart below for locations and drop off/pick up times.
Location
AM Drop-off
PM Pick-up
SB YMCA
405 S. Main St

Friday pick-up (camp-out weeks)
7:45 a.m.




5:00 p.m.


12:00 p.m.
Hickman High School
Providence Rd. & Business Loop 70 – W side of Hickman

Friday pick-up (camp-out weeks)
8:15 a.m.




4:30 p.m.


11:30 p.m.
THANKS TO Friends of TaKiMiNa!
The Southern Boone Area YMCA wishes to thank Friends of TaKiMiNa (FoT) for the use of Camp TaKiMiNa for our operation of Camp Mudd. If you are interested in FoT camping programs offered throughout the year, please contact Wanda Hoffman at 573.445.7536.